Hey everyone, I am now being harshly reminded what a noob I am. I finished building a Fuzz Factory and a OCDv3 using these vero layouts: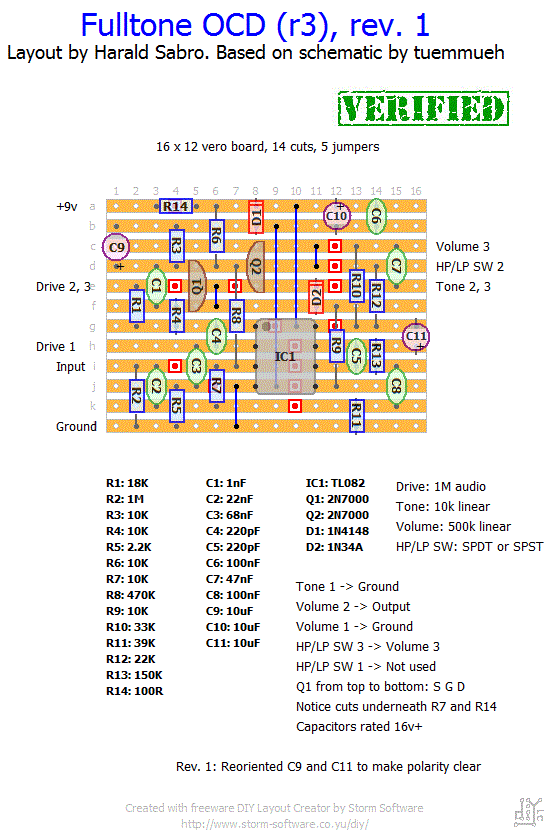 Both of them have been checked and rechecked against the vero layouts multiple multiple times. They both work in bypass mode. They both are basically dead when switched on, though the LED works and it seems like the board is getting some power because there is occasional hissing, popping, etc, when I twiddle the pots. I've spent weeks tinkering with it. I've been reading through forums to try to get some clue as to what I may be doing wrong, but it has real started to expose some noob gaps in understanding and has made it impossible for me to troubleshoot further. So rather than ask some specific questions about the projects at hand, i am hoping that you guys might be able o help me with some general questions to help me help myself...
So here goes:
- How easy is it to fry a transistor? How can I tell if my transistor is fried? I have a Cen Tech DMM that I bought from BYOC's site, can I use that to test? - I see a lot of people are testing the values on the transistor. How do I do that? Is there a resource you can point me to so I can understand what is going on and how to test?
- If I use the continuity test on the DMM, can I touch input and output on the vero and should I get a reading? Or am I supposed to test small segments at a time?
- Is it likely that I could damage other components? For example, can I ruin an electrolytic if I put it in backwards? Or can I just turn it around and it will work fine?
- Are there any tutorials out there that talk about using a DMM for troubleshooting in general? I have looked up videos and the manual, but they didn't help me much.
- Is it possible to overheat components and make them non-operational? Sometimes, I turn up my 5-40watt soldering iron close to full once I start to troubleshoot because i find it is much easier to desolder when the iron is hotter.
Sorry for all the terribly noob questions. I have been reading all over this site and others, but I am still a little lost. I guess I just need the basics of trouble shooting. Any answers or resources you can point me to would be greatly appreciated. I'd really like to grow and get better. (And not be so lost and frustrated...)
-