hi guys,
was out earlier buying parts (what else) and stopped at a pawn shop, lookin' around...found a really cool old silvertone lapsteel, almost jumped on it...150 bux i didn't have.
anyways, as always, i asked if they had effects...
and they had one...a dod fx69b grunge.
don't close the window yet, tho.
it gets better.
i ask 'em what they want for it, they say what will ya give me?
so i, of course, being ever cheap, say 5 bucks.
he says eight. i say sold. i mean, for 8 bucks, ANY pedal is worth it.
so i bring it home, expecting it to suck heinously.
but believe it or not, it sounded pretty good. so i figured, after chilling with fine folks like you, to molest it badly and see if i could take it from ok to HOLY SHEET.
i actually had some success. here's a schematic...no idea if it's right. i don't know much at this point, still a newb.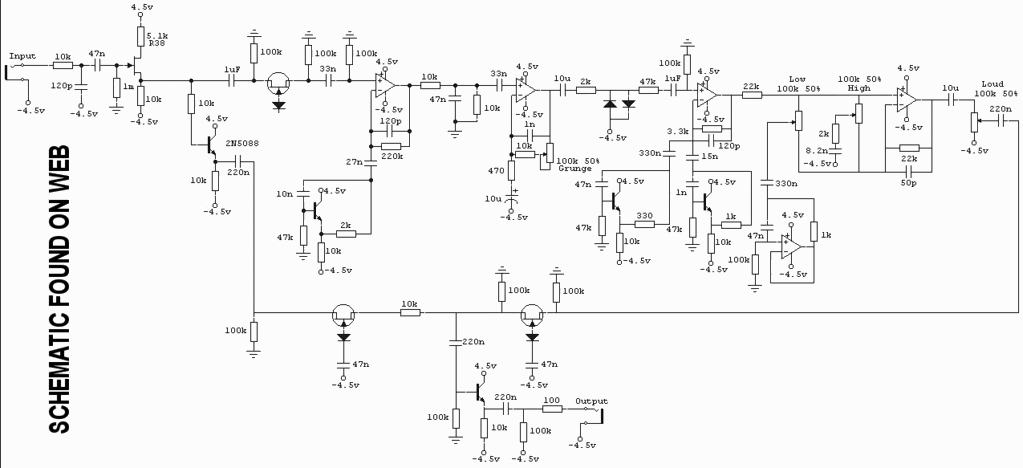 so i did a search around for mods, and found this:
http://www.thestompbox.net/forum/showth ... IY-Upgrade
this was the suggestions made:
"Pedal Hacker's Grunge Pedal DIY Upgrade

I finished it and it sounds amazing, way better than the OD-2 kit!! 2 resistors, 2 caps, and an LED diode! What a difference a few little components can make!! Here are the basic instructions if anyone is interested:

DOD GRUNGE MOD

REMOVE C19. YOU DON'T NEED TO REPLACE IT WITH ANOTHER COMPONENT OR ADD A JUMPER.
THIS ADDS MIDS AND GIVES A FULLER TONE.
CHANGE R16 TO A 1K RESISTOR. THIS LETS THE PEDAL CLEAN UP WHEN THE GAIN IS TURNED DOWN.
CHANGE R19 TO A 22K RESISTOR.
THIS MAKES THE DISTORTION A BIT RICHER WHEN CRANKED.
NOW CHANGE C24 TO A .0047CAPACITOR. THIS MAKES THE 'HIGH' KNOB AS MORE LIKE A HIGH KNOB SHOULD.
THIS CAP IS POLYSTYRENE, WHICH IS THE 'HOLY GRAIL' OF FILM CAPACITORS. EXTRA CARE SHOULD BE TAKEN WHEN SOLDERING AS THESE ARE MORE HEAT SENSITIVE THAN OTHERS.
CHANGE D2 TO THE SMALL YELLOW LED.
THIS GIVES A MORE COMPLEX, ENHANCED DISTORTION.
DON'T CHANGE C6, EVEN THOUGH IT'S MARKED IN THE PIC."
of course, here's the pic: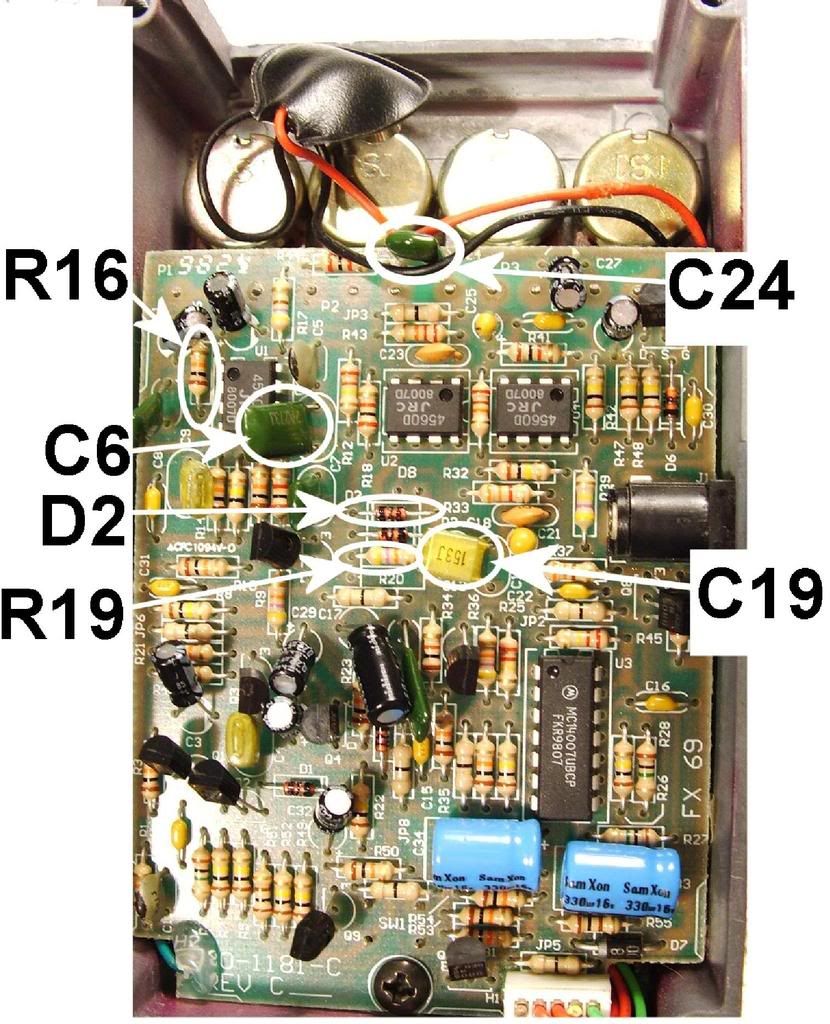 i did some of the stuff,...changed r 16 to 800 ohm (it was handy) and had an instant difference in the response of the pedal.
also changed r 19 to a 24k resistor (i bought a huge grab bag of resistors earlier, and that was close enough to 22k for rocknroll)
took out c 19. it really DID help the sound of the pedal.
but what i did differently was remove d2 completely. get it the f*** outta there!! was like turning the suck knob way down.
so then i took out d3 (just below d2 in the pic) and replaced it ultimately with a ge 1n34a.
that did it. pedal sounded a bit nasally (which i like) and cleaned up pretty well with my strat's volume knob. not completely, but enough to play a relatively cleanish rocknroll rhythm.
huge difference...i mean i couldn't believe it.
but wait. i got creative. here's where stuff started to get strange.
i read all over the place about how peeps hate the 4558 chips in these things. they were actually marked something else, but i didn't bother writing it down.
i had read about stacking chips, and had an NTE889M "dual low power jfet opamp", so i tried stuffing it on top of the '58s on the board.
there's 3 of them, the left and right ones (looking at the component side of the board) didn't do a whole lot, but the one in the middle was hip.
i mean REAL hip...it's subtle, but seemed to add in noticeable headroom and sparkle (which, with my luck, probably has nothing to do with it being placed there.),
so i soldered that puppy's 8 legs to it's arachnid brethren on the board, and fired it up.
i was like..."yeah!!". it sounds like it probably should have in the first place now, to my ear, much better, louder and with more overdrive and slightly less unusable distortion.
(you can turn the guitar off even with everything pegged, and the pedal won't feedback by itself like it did.
)
but...i screwed something up. oooooopsies....
now, even tho the switch bypasses the effect, the bloody led won't go out.
i tried un-doing the mods i did, but to no avail...and am stumped. i mean, i can LIVE with it being messed up and always being on, but i'd really like to fix it if anyone has any ideas as to what the heck i did.
so ...long story short...
found a cool mod for a pos pedal.
and broke it at the same time.
can somebody send me a clue as to what to look for, or what i did, or how to fix it?
thanks in advance!!
jimi