Wowsshhh. Finally, my favorite circuit.
Shit, out of njfet. Why this come after place order
didnt think fit in 1590B
unless 9mm pots came.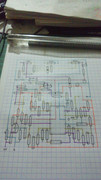 Thanks Baja!
plush wrote:

287m wrote: or where the best position to experiment?

Between clipping diodes and output buffer. Don't forget to decouple.

If any volume drop occurs, you can replace output buffer with a power booster.

Or add another gain stage to look like this: ->[clipping diodes]->[buffer/amplifier]->[tonestack]->[output buffer/amplifier]->[volume knob]

You can find classic soldano tonestack in gewgl.
latest build, stacked with baxandall tmb style. Im not satisfied, but he said good enough.