I've been working on this one on and off for the past month or so. It's evolved into something with quite a few interesting tonal possibilities.
First off, you'll notice that it has switchable diode clipping, this idea was suggested to me by Derringer, so I tried it and it worked well, adding a bit of sizzle to the boost and overdrive. There is a slight volume loss when the 'Dirt' switch is engaged, though there's enough boost in the circuit to compensate for this.
This design originally started out as a low voltage circuit, as it developed I thought it would be nice to get the voltages a little higher, so I added a little charge pump circuit based around a MAX1044 to get up to around 35 volts. Thanks to R.G. for his
+18, +25, or +33 from one 9V battery
on which the charge pump circuit is based.
The tonestack is based on the BM tonestack, with just a few value changes to suit the circuit.
What does it do? Well it does clean boost with the Gain set at minimum, flick on the Dirt switch and you get some nice diode clipping too. Turn up the Gain and you'e into overdrive territory with diode clipping, flick the Dirt switch off and you get even more overdrive. All with some nice tonal variations courtesy of the tonestack. So many types of dirty, hence the name "
Promiscuous
Girlfriend
".
I've done perf and PCB layouts, John Lyons has kindly consented to make up some PCBs for anyone whose interested. My good forum buddy Toney is putting together a vero layout too, so all bases are covered.
So, tubes available from Small Bear, layouts in three different formats, PCB availability - what are you waiting for?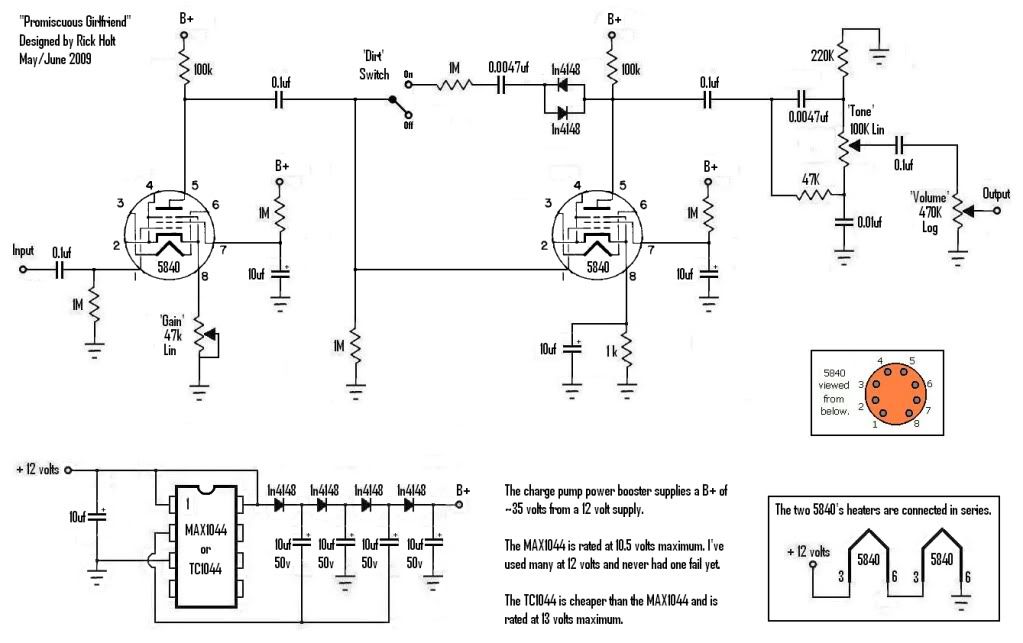 Perf layout, unverified, I'll build it soon.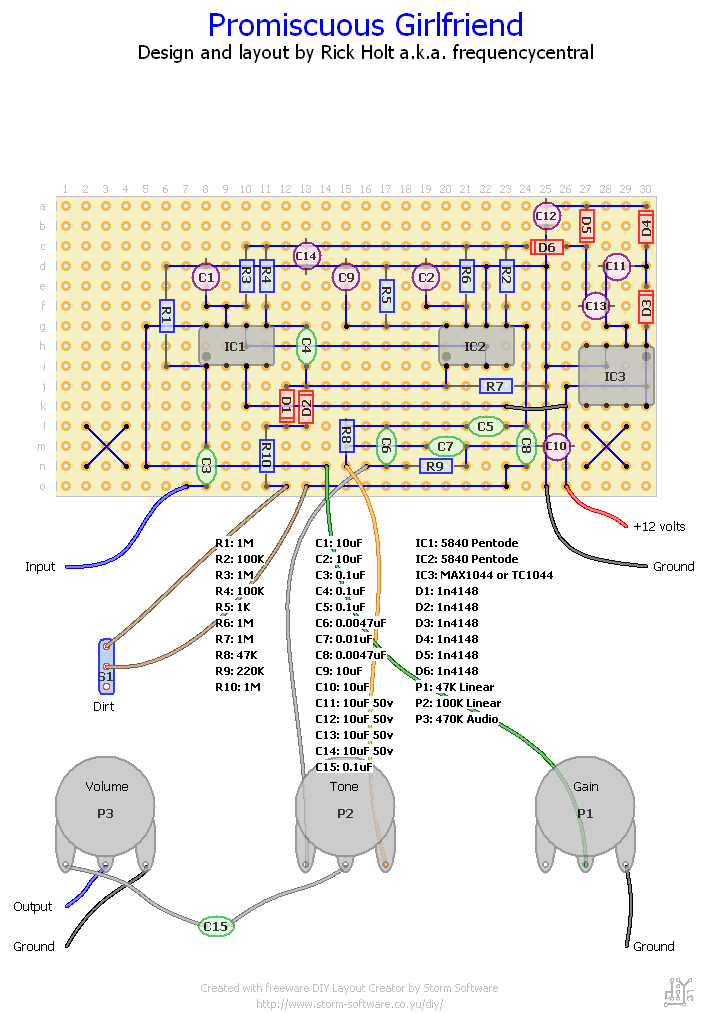 PCB layout and PnP, unverified, but pretty much identical to the perf layout, so when the perf is verified so will be the PCB.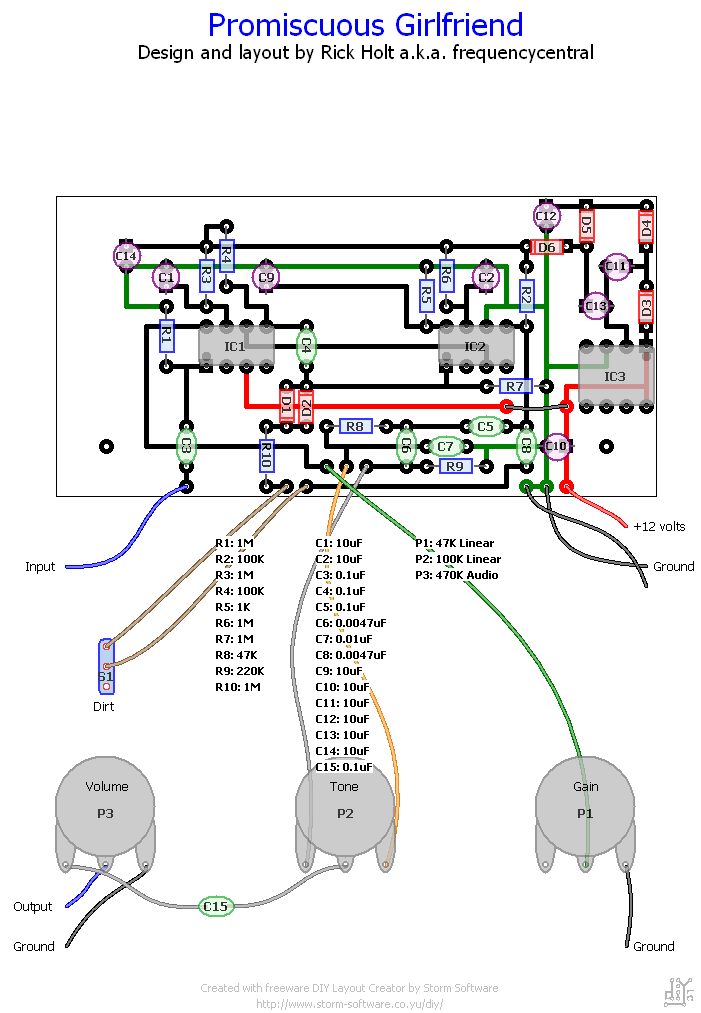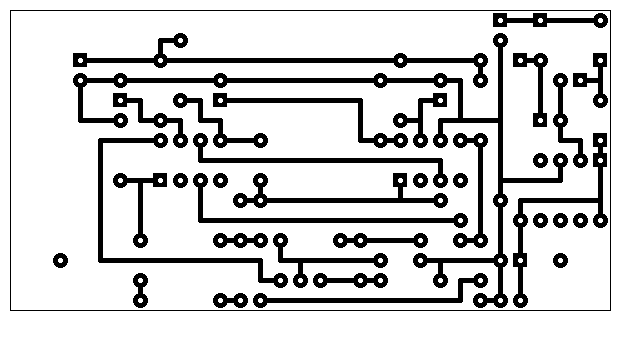 Here's some soundclips, they don't explore every possibility but give a bit of a flavour.
Signal path:
Squier Telecaster Custom (bridge humbucker) >>>
Promiscuous
Girlfriend
>>> Roland Bolt 60 watt tube combo >>> Shure SM58 >>> Event Echo Gina 24 soundcard >>> Wavelab
No other processing.
The first clip has the effect bypassed, then with minimum Gain and the Dirt switched off:
http://files.getdropbox.com/u/967492/By ... 0Boost.mp3
Minimum Gain, Dirt switched on:
http://files.getdropbox.com/u/967492/lo ... 20Dirt.mp3
Maximum Gain, Dirt switched on, Tone set low:
http://files.getdropbox.com/u/967492/hi ... 20Tone.mp3
Maximum Gain, Dirt switched on, Tone set high:
http://files.getdropbox.com/u/967492/hi ... 20Tone.mp3
Maximum Gain, Dirt switched off, Tone set low:
http://files.getdropbox.com/u/967492/hi ... 20Tone.mp3
Maximum Gain, Dirt switched off, Tone set high:
http://files.getdropbox.com/u/967492/hi ... 20Tone.mp3