Hi !
I just fixed a Danelectro Cool Cat Transparent Overdrive V2 (opamp was dead) and when I put it back together I broke the 3pdt switch.
I've been searching for a similar one online but I can't manage to find it. Here are some pictures :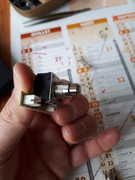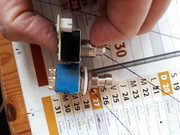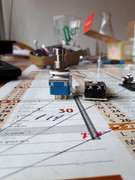 It's about the same width and length as you usual 3PDT, same solder pins spacing, but way lower (about 31mm).
I tried emailing danelectro but they won't give me any info, and I did try some other small sitched a try (like this one
https://www.musikding.de/3PDT-footswitch-compact
) but they don't match. The botom part is small enough to fit in the box and let the box close (even if the pins don't match the current 3pdt pcb but that's not a issue), but they're too high for the "outer shell" of the switch (see below).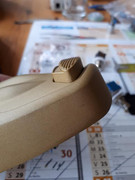 The main problem is the threaded part, which is shorter than usual, than comes the switch shape (but I might be able to deal with that) and then the lower part needs to be small as well otherwise the enclosure won't close.
Does anybody know where I could find a switch like this ?
I'd really love to avoid rehousing this pedal
Thanks a lot for reading !