---
---
Breadboard Brother
Information
Nicht Bernd wrote:Is it possible to get rid of the Germanium distortion and put a in/out there?
This would get the opotunities to use a distortion like the tight metal ect
I don't think you will get good results with that.. Compressor and distortion together will probably create lot of noise..
---
i managed ti blow up mine with wrong psu
I might as well take some pictures while I'm trying to find out what blew up...
note it;s the standard ver. not the germ, but I think only the 2 diodes are different.
http://oi59.tinypic.com/2mqlunr.jpg
http://oi57.tinypic.com/2rd7lef.jpg
---
I finished a Philosopher's Tone yesterday night and ran into some trouble with the 15V power line.
Some time ago I bought a real "bargain" on ebay. Lots of LT1054 (smd) for small money. Upon arrival from overseas it turned out that they were LT1054L (the L standing for a max of 7V input). Now I thought that would be fine for the Philospher's Tone. I regulated the input down to 7.2V via LM317 and then tried to double the voltage. Unfortunately that didn't work to well, I get stuck around 12.7 V and the pedal sounds rubbish.
Now my questions:
1. Should the pedal sound fairly OK at about 13V,or is it fine tuned to 15V?
2. If you use a voltage doubler, do you drive the pedal at 18V or do you regulate the designated 15V-Line (in brejna's pdf I didn't spot a voltage regulator)?
3. If the original pedal says 12-18V on it, HOW COULD IT SUPPLY 15V without a charge pump when running at 12V?
4. I don't get the power supply circuit from mysticwhiskey's schematic. The 15V point seems to be very much what you put in in there (about 17.99V at 18V input in a simulation)

I really want this compressor. Even at the cost of not understanding what is going on inside.
This is what I've done (my "15V" circuit in red):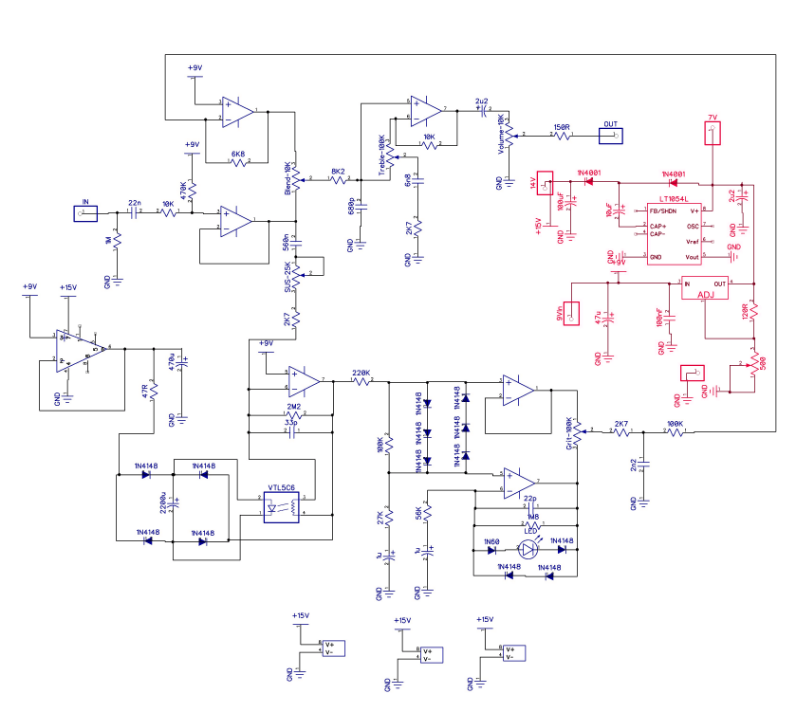 ---
Solder Soldier
Information
The 15V marker is what's silkscreened on the original Philosopher's Tone board. You're right, it won't actually be 15V unless you provide a 15V power supply. I don't know why they left that on there, I guess it's the average value of 12 to 18V.

On the clone I built from Harald's vero layout, I used a 9V voltage doubler outputting 18V. It runs fine, but then again I'm using a regulated multi-output power supply which supplies a constant and steady 9V.
---
Thanks. So this means it should sound quite allright with my 13V supply. The "Grit" sounds VERY much like a fuzz even I turn the knob up only a bit. Not very similar to the youtube demos that made me believe this is THE compressor for me (I very much like compressors and very very much like mild overdrives).
But I finished the built late last night and should listen to it with fresh ears when I am at my workbench next time.
---
Resistor Ronker
Information
i built one using mysticwhiskey's layout and it works great. even with the volume mod, i wanted more output so it just added a clean Jfet boost on the output, plus a relayed true bypass. in an etched 125B, with all top jacks:
---